Rose Gold & Black Gold Crystal Studded No Snag Magnetic Pin ( set of 2)
₹499
These super cute No-Snag Hijab pins are just the right size to keep your hijab in place without worrying about pulled threads or snagging. Comes in a set of 2.
In stock
Delivered in 3-7 Working Days.
Reviews
Only logged in customers who have purchased this product may leave a review.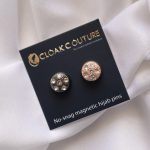 Rose Gold & Black Gold Crystal Studded No Snag Magnetic Pin ( set of 2)
₹

499
In stock